Sarah and Juice managed to get to both a football and a baseball game in the last fortnight, all without venturing far from Manhattan in NYC.
Last week, they saw the New York Jets play the New England Patriots at MetLife Stadium in New Jersey. A few days later, they went to Yankee Stadium in the Bronx to watch the New York Yankees face off against the Houston Astros.
And, look, it's not really fair to pit the experiences against each other in general terms of which was better. The Yankees were playing in the American League Championship Series – the winner of which goes to the World Series – so the stakes were far higher. Also, the Yankees won the game that Sarah and Juice attended (not the series, though) and the crowd went nuts. Also, they're the Yankees. You probably have one of their hats in your house somewhere.
 On the other hand, the Jets lost to the Patriots in a less consequential game. And although they were coming off a few wins in a row, the Jets aren't predicted to feature in the NFL postseason.
Fan excitement was definitely skewed towards the Yankees game.
With all that considered, here are the key questions from Sarah's most recent videos:
■ Is tailgating with

Tailgate Joe

a better pre-game ritual than going to

Stan's Sports Bar

in the Bronx?

■ Are

Garlic Fries

 better than 

Cheese Fries

?

■ Is the US national anthem best when played on a Saxophone?

■ Would a

Jets

fan or a

Yankees

fan be more likely to say

"We're New Yorkers, they don't know what we're made of"

?
Find out by watching the videos below:
Sarah and Juice started at Tailgate Joe's pregame tailgate and then went in to watch Jets v Patriots.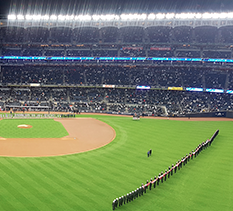 Sarah and Juice attended Yankee Stadium for game 3 of the ALCS. Features one of the best renditions of the US national anthem as well as Yankees fans going absolutely nuts.
Keep checking back to see what Sarah and Juice get up to next in NYC!
Categories: NFL, Sports travel guides, MLB