It hasn't been a good season for the NFL's NY Giants (1-6 at the time of writing), so you might not think that going to one of their games is a great idea. And if you're lucky enough to have the option of attending NFL games regularly, that might be true.
For a travelling sports fan, though, an underperforming team actually presents a great opportunity for value.
This could be a great opportunity! Hear me out: Football is the most popular sport in the US, so just getting to an NFL game isn't always easy. There are some stadiums that have been sold out since the nineties. Therefore, we as travellers can actually benefit from demoralised local fanbases: It can create some available (and discounted) seats.
"Empty seats" is no selling point, so consider this: If you look at the Giants results for the season, you'll see that three of their 6 losses have been within five points.
Add their one victory to that and that makes four of their 7 games that were either close games or a win. If you're a neutral fan, you'd consider them "good games to be at", right? (It also helps to explain the anguish of Giants fans this season).
The Giants will go into most games as underdogs for the remainder of the season, but they have shown the ability to get close in games. As a travelling fan, you could find a discounted ticket and then be there for an unexpected underdog victory. That's every traveller's dream, isn't it?
OK, so now that you're convinced, here's how we'd do it if we were going to a Giants game.
1. Find a NY Giants game to go to
To find a home game to attend, check the NY Giants match schedule on SWIAM by looking at the upcoming games at MetLife Stadium.
Note that this list will also include NY Jets games, as they play out of MetLife Stadium, too.
What we'd do: Go to Giants v LA Rams on November 5th!
2. Decide where to sit
Last year we put together a guide for choosing where to sit at Football games, and our fan tips for MetLife Stadium echo the overall findings of that guide.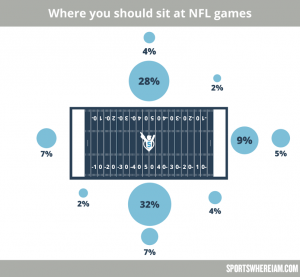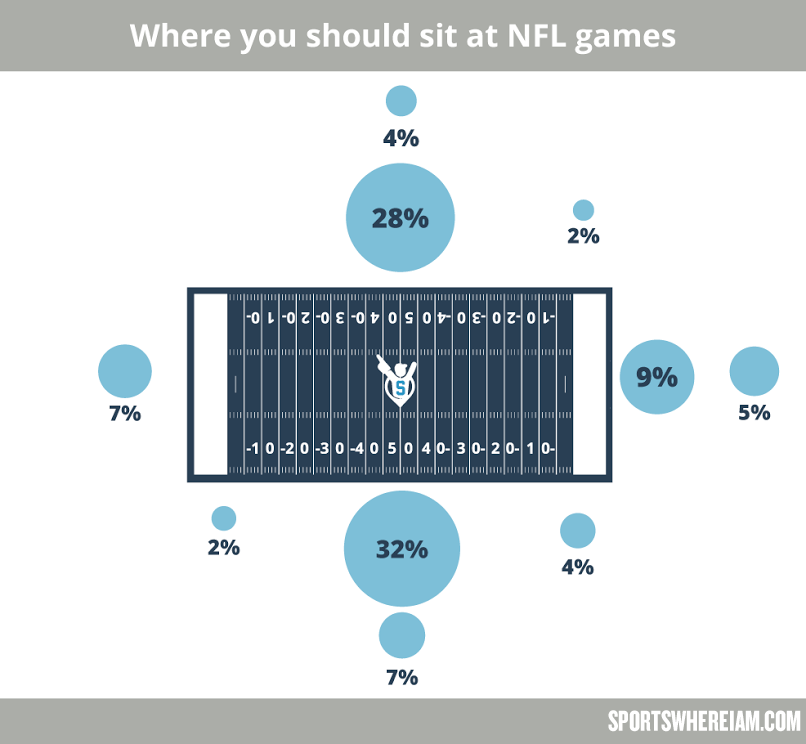 In summary: Try to sit between the 20 yard lines if you have the choice, but football is really popular, so take whatever you can get.
Our fan tips from MetLife Stadium say pretty much the same thing.
What we'd do: We'd probably look for a ticket in Sections 308 to 319 on the Bud Light Gate side or in Sections 333 to 344 on the MetLife Gate side.
3. Get there by train or bus
To get from Manhattan in NYC to MetLife Stadium in New Jersey, we get two suggestions most often: Train or Bus.
Both are inexpensive. For trains, you basically get on at Penn Station, then off at Secaucus station, then onto the Meadowlands Rail Service, which takes you to the front door of MetLife Stadium. The total trip should cost around $11.
You could also take a bus. The 351 Meadowlands Express leaves from the Port Authority Bus Terminal in Manhattan and costs $6 each way.
Check the stadium's website for more details.
What we'd do: We'd probably save one dollar and take the train… but getting on a bus with a bunch of Giants fans sounds like good fun, too.
4. Attend a pre-game tailgate
A cool thing about Giants games is that tickets to tailgates are listed amongst the other ticket options for the game. See this screenshot from Giants v Rams: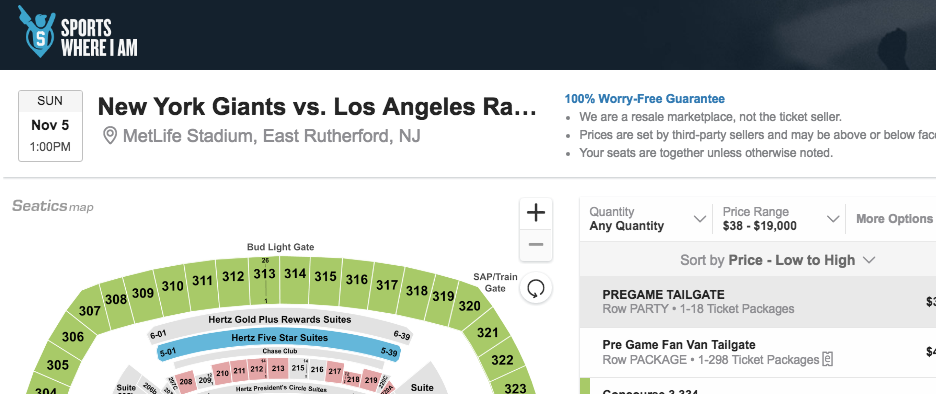 Organising this before the day could make your preparation a bit easier, but be careful: these tickets are NOT your game ticket – you'll need to buy a ticket to the game separately.
What we'd do: First we'd probably search for some Giants supporter groups (you can ask us to do this on your behalf) to see what the tailgating options were… and then we'd most likely buy one of these listed tickets to lock it all in before the day.
5. Learn what to expect from Giants fans
Giants fans are pretty dejected this season.
do Eli a favor and trade him he doesnt deserve this

— That Guy (@MrMichaelMolloy) October 8, 2017
Outside of that, SWIAM user Chris described Giants fans more generally as "more affluent, older, and better behaved" than their MetLife Stadium co-tenant Jets fans.
What we'd do: Buy some Giants merchandise, try to rally the around Giants fans you meet and get ready to cheer on an underdog.
Agree? Disagree? Let us know by finding us on Twitter or Facebook.
Categories: NFL, Sports travel guides, Tailgating, tourism, tourist