October is a great month to be in the USA due to the overlap of the American major sporting leagues: MLB playoffs are off and running, the NFL & NHL seasons have started, and NBA teams are playing their preseason games just before the regular season starts. With all of those options, is it worth buying a ticket to an NBA preseason game?
Let's have a look.
How preseason works in the NBA
The NBA preseason occurs over a two-week period around start of October, finishing a few days before the regular season starts. Each team generally plays around six games in this time. The games are exhibition games – they aren't part of a preseason championship, there aren't 'preseason finals' and there isn't a 'preseason MVP', or anything like that. Teams can play each other multiple times… probably out of travel convenience more than anything else. They'll also play games against some international teams.
They're a 'tune-up' opportunity for teams, a chance to try out their plans from training camp before they get into the real thing. In summary, the players aren't really playing for much in these games.
That might sound like we're underselling it a bit, so consider this…
The tickets are usually much cheaper
Less people know about the NBA preseason, so it's a really good opportunity to get tickets you might never be able to afford during the regular season. Look at the tickets from this game of preseason basketball in NY, for example: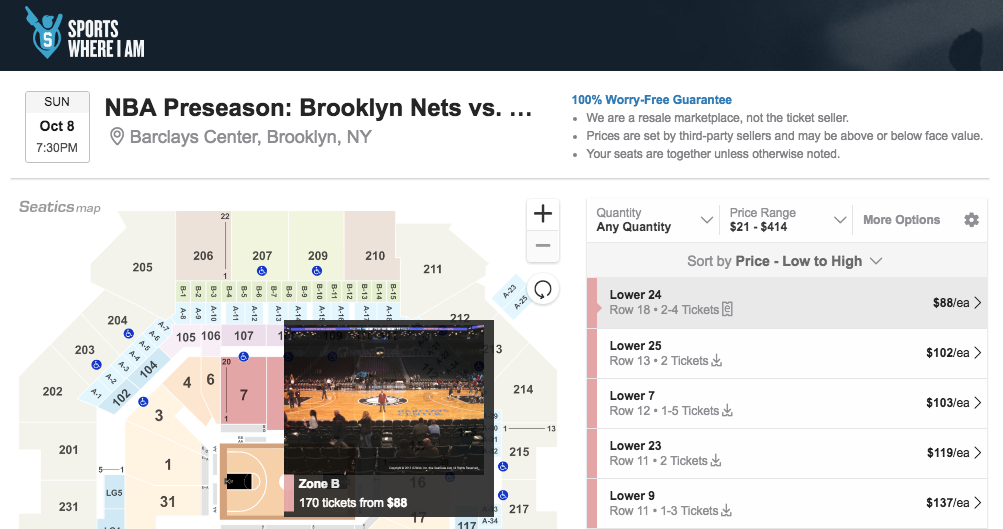 Yes, it's a Brooklyn Nets v New York Knicks game, and neither of those teams seem likely to be competing for the Eastern Conference title in 2017/2018. And yes, it's played at Barclays Center and not Madison Square Garden.
But this is the highest quality basketball league in the world, and you there are seats very close to courtside for less than a hundred dollars (at the time of writing)!
Some players will be rested – either for the whole game or for part of it
NBA players have an 82-game schedule coming – and that's before you factor in the playoffs. Add to that the fact that many players will undergo some kind of surgery & rehab during the offseason, and you're likely to have a number of established stars skipping games during preseason.
Another common trend is a team's stars playing only during the first half, proving their point, and then resting the remainder of the game.
This is definitely something to consider when you're choosing your game. Which brings us to our final point…
Our tip: This could be one of your best NBA experiences (if you find the right teams)
Our recommendation is this: Yes, you should go to an NBA preseason game, but pick the right teams to watch.
If you pick a "better" team, for example – the 2017/18 Cleveland Cavaliers, who competed in the finals last season and are stacked with established veterans & star players… they don't need to prove as much in the preseason, and therefore their stars are less likely to see a lot of preseason court time.
On the other hand, if you pick a team with a younger line-up and less expected of them in the regular season, they need all the experience they can get – and you're likely to see more court time from their actual starters.
Which is really what our advice comes down to: Pick a young team with potential future stars. You'll probably get to see a lot more of them on the court during your game, and in years down the track when/if they become stars, you'll be able to say that you saw them before anyone else.
Some examples of teams like this in 2017: Philadelphia 76ers, Brooklyn Nets, LA Lakers, Orlando Magic (…and the LA Clippers, mainly just for Teodosic).
Categories: Fan interaction, NBA, Sports travel guides, tourism